My buyer is offering me vendor financing. Should I take it?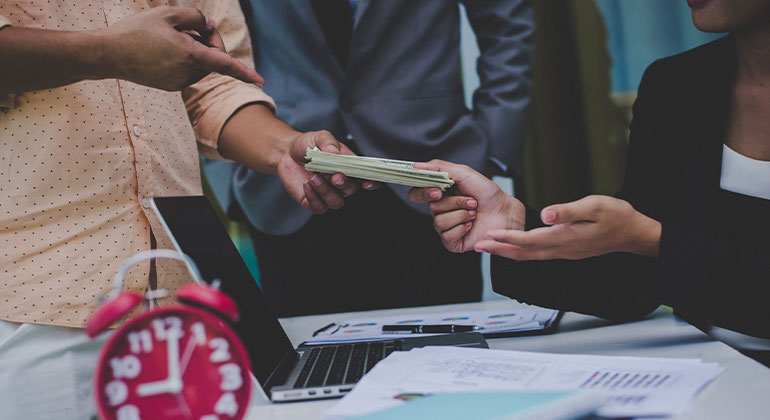 Several large organizations today offer vendor financing to facilitate access to early payments for their suppliers. However, before taking it up, you must consider several nuances to ensure it is suitable for your business in the long term.
Let's first understand what is Vendor Financing?
Vendor financing is a working capital facility that allows you to receive early payments against invoices raised to your buyer. Buyers partner with the top financial institutions to provide their suppliers with the best possible terms to access capital immediately upon completing the sale.
Unlike standalone financing, which is based purely on the strength of your balance sheet, vendor financing relies on the strength of the supply chain finance linkage and the underlying trade transaction to offer competitive financing terms.
Instead of waiting to receive payments at the end of the Buyer's credit period, vendor financing helps convert receivables to cash that you can use to strengthen cash flows, buy additional inventory, or sustainably grow the business.
Benefits of Vendor Financing
Timely Access to Working Capital
Vendor financing offers timely access to funds that you can utilize effectively to ensure smooth business operations.
Competitive Terms of Financing
Since they are based on the supply chain linkage with the buyer, the rate of interest to access vendor financing is much more competitive in comparison to conventional working capital loans.
Seamless Disbursement Process
Buyer-led vendor financing programs with the right FinTech partners ensure that the entire disbursement process is frictionless. With end-to-end ERP integration with the buyers, sellers can access vendor financing at a single-click on the Vayana platform.
Minimal Documentation
Since financiers evaluate the partnership and due diligence at the buyer level, sellers can access Vendor Financing with minimal documentation. Most of these loans are unsecured financing, which means you can access funds without providing additional collateral.
Reduced Days Sales outstanding
With Vendor Financing, sellers can liquidate receivables immediately upon sale, reducing the day's sales outstanding and risk of bad debts. Sellers can reinvest the cash earned from accelerated collections back into the business and set themselves up for growth.
There are also specific nuances that one must consider before proceeding with Vendor Financing.
Things to consider before taking up Vendor Financing
Buyer contribution to Turnover
Vendor Financing is linked to sales done to the buyer offering the facility. In case the percentage of sales done with the buyer is not significant, there might not be much value for you to gain from such a vendor financing facility.
Onboarding Processes
Additionally, several vendor financing programs might be tedious, requiring cumbersome paperwork for onboarding and transacting. Make sure to check if the program ensures hassle-free onboarding and transacting process to access funds periodically.
Is Vendor Financing right for your business?
Here are a few instances when you could consider taking up Vendor Financing programs offered by your buyer:
The buyer contributes to a significant portion of your sales.
You are falling short of working capital and could use early payments to bridge the gap.
The program offers affordable financing terms: rate of interest, processing fees, and other charges you need to pay to access the funds.
Accessing such funds is streamlined, straightforward, and does not require much of a transition from the existing invoice settlement process.
You are looking to strengthen the trade relationship with the buyer.
You retain control – you select which transactions need to be financed. You may not need it everytime
Will it be consistently available – is it a long-term arrangement
Is the buyer asking for a discount? Is it worth it?
Do you wish to strengthen your relationship with this buyer?
To conclude, vendor financing is an excellent approach to finance short-term fund requirements and keep the operations running. However, make sure to carefully assess the terms and conditions of the Vendor Financing program offered by the buyer to ensure it is aligned to the long-term interest of your business.