Vayana discusses cross-border banking at Fintech Festival India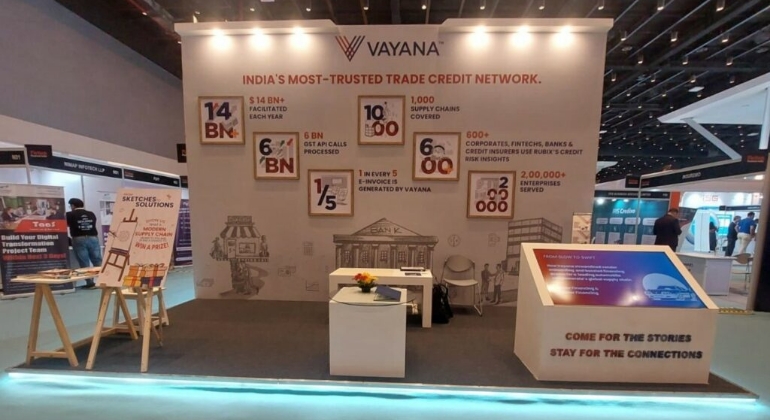 Vayana, India's leading supply chain finance network, left a mark at Fintech Festival India 2023, held at Mumbai's Jio World Centre in BKC. Our booth at the event was inspired by an art gallery format, aiming to showcase a masterpiece of our cashflow, credit, compliance and commerce services.
Among the event's notable moments, Mr. Kalyan Basu, representing Vayana TradeXchange, took the stage to discuss banking in a borderless world. His insightful remarks shed light on the challenges faced by small businesses and the potential solutions that can shape the future of finance.
Neo-banks can make international transactions almost as fast as domestic ones to benefit small service exporters
When you make a regular international transaction, it's a time-intensive process involving many steps. You have to go to the bank, fill the relevant forms and submit documents, your account will be debited and the amount will go to the bank's central office, a SWIFT message will be prepared to hit the relevant international bank and eventually reach the payment to the recipient. This takes approximately 3-4 days to complete! Neo-banks have found a way to make this easier. This requires the neo-bank to have a pool account with a traditional bank, and you to also have an account with the traditional bank. With this, when you make a transaction your account gets credited, and the amount directly gets debits into the international pool account of the traditional bank. Now, all the bank needs to do is complete a domestic remittance process to finally transfer your money. Hence, making the process of international transactions almost as quick as domestic ones.
If Indian neo-banks are able implement similar strategies to streamline international transactions, it could make payments faster and more affordable for millions of exporters. Especially benefitting the small businesses who form the bulk of the country's service exports. Since they currently struggle to get financed, receiving payments even 2-3 days early would make a huge difference.
To streamline cross-border trade finance, small incremental shifts can be made while waiting for big policy changes
Implementing change through policy change has historically not been the most productive route. 30 years ago, there were talks of digitizing 'bills of lading'. Decades have passed without success. Similarly, a 50-year-old convention on factoring has only able to get 9 countries to adapt till date. Hence, outside of policy incremental shifts need to be identified to bring change faster, such as those related to digitisation. For example, the simple use of digital invoices (already operational across geographies) makes cross-border finance seamless and transparent, bringing change much quicker to all parties.
Having discussed ways of empowering small businesses, transforming cross-border banking, and embracing digitization, the curtains draw on another successful event. Vayana's presence and Mr. Kalyan Basu's insightful address at Fintech Festival India 2023 leave a lasting impression. Stay connected with us by following our LinkedIn page, and for further information about our comprehensive credit, cashflow, compliance, and commerce solutions, kindly reach out to us at enquiry@vayana.com.