For MSMEs to access credit, availability is only the first step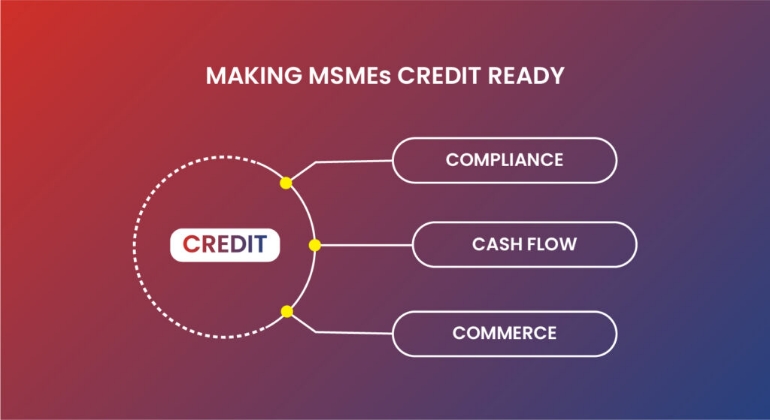 Credit readiness is when the borrower's credit worthiness is 'visible'. It requires proof of business health, positive display on future growth, record of strong business relations and evidence of consistent cashflows. It is what encourages financial institutions to confidently lend and thus, allows MSMEs to consume credit.
Understanding this, it becomes easier to comprehend why even with growing availability, many creditworthy MSMEs are still left out the credit market. For they lack the internal systems needed to communicate their credit readiness.
To effectively support MSMEs in becoming more credit ready, it is important to realize that credit does not operate in isolation, but rather in an ecosystem. With each component reinforcing the other, an effective solution offers support on all fronts, not just credit.
1 . Compliance – an effortless tool to capture business health
For a small business already working with slim resources, the additional task of compliance poses an inconvenience. However, it cannot be avoided. In addition to being a requirement, lenders use compliance records to judge business health. Complete records provide an improved financial perception of the small business. Thus, making larger corporates more eager to do business, and financial institutions more forthcoming to lend. Vayana is India's largest GST Suvidha Provider (GSP) and makes it easy for a company of any size to simply plug into the GST system. Thus, dramatically reducing the effort needed to comply, and freeing the MSME to focus on core business activities.
2 . Cashflow management – a direct pulse on business transactions
To achieve predictable cashflows, MSMEs must exert immense effort in gathering collections and maintaining cash reserves. When the MSME's inflows are strained, payments to suppliers get further delayed. This makes it hard for MSMEs to display a favourable cashflow rhythm. However, lenders look for regularity in cashflow, so they are better assured of repayment. With Vayana, the MSME's buyers are sent automatic reminders with payment links to initiate swift inflows. This in turn encourages timely payments to the suppliers. Overall, making the lender more willing to finance the MSME, especially through Vayana's platform where disbursement occurs with a single click.
3 . Commerce – the ultimate barometer of confidence for a business
Small businesses often do not have the tools to attract new customers. However, for enthusiastic lending, future stability and success needs to be exhibited. Here, Vayana's Good Business Score (GBS) helps small companies generate a score on their business health. With this, MSMEs can endorse their commercial strength to new partners, such as large corporates and lending financial institutions. Vayana also helps MSMEs enter new markets, such as the upcoming Open Network for Digital Commerce (ONDC), by setting up versatile digital storefronts, with simplified invoice and inventory management tools. By inducting new customers, the MSME gains improved discoverability against competition, steady growth over time, and increased eagerness to lend from financial institutions.
Thus, for India's 7.9 million MSMEs to be more strongly represented in the credit market, and for large corporates to discover their preferred channel partners, Vayana's suite of Supply Chain Finance services combines credit with cashflow, compliance and commercial support to ensure a measurable credit impact.