Sparkling Cashflows with a Digital-First Diwali: Illuminating E-commerce Revolution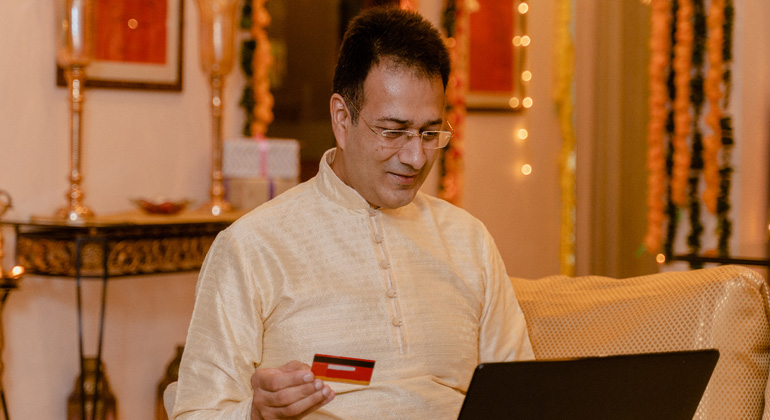 As we approach the season of lights, India is poised for a vibrant Diwali celebration. In recent years, this season has seen a remarkable shift in how Indians indulge in the age-old tradition of festive shopping. The allure of exclusive deals and the convenience of online shopping has sparked a transformative revolution, shaping the way we celebrate, shop, and manage our cashflows during Diwali. Read more to uncover the growing trends in festive shopping for businesses to be better poised for cashflow success.
The Rising Tide of E-commerce
Statistics from the Indian Ministry of Commerce and Industry offer a glimpse into this transformative shift. In 2022, India witnessed a staggering 72% surge in online shopping during the festive season compared to the previous year (source: Indian Ministry of Commerce and Industry). The ease and convenience of online shopping, paired with exclusive festive deals, are catalyzing this paradigm shift, especially during the festive season.
This year, India is on course to become the fastest-growing e-commerce market, unlocking a plethora of opportunities for Micro, Small, and Medium Enterprises (MSMEs) to step onto the global stage. The immense potential for Indian businesses, particularly those in smaller towns, is being unveiled as global shipping becomes more accessible. This confluence of e-commerce and global reach makes it an opportune time for Indian enterprises to explore international avenues and capitalize on cross-border trade.
Small Towns Steer the Wheel
One of the remarkable shifts in this transformative journey is the growing influence of small towns and tier 2 cities. While tier 1 cities like Jaipur and Lucknow have been the traditional driving forces behind online shopping, the tides are changing. Smaller cities such as Panchkula in Haryana and Brahmapur in Odisha are now outpacing their larger counterparts. Even in seemingly remote towns like Port Blair, we see a higher inclination to place online orders, especially for product categories like fashion.
This shift in the e-commerce landscape is not limited to any one platform. Meesho, a SoftBank-backed e- commerce platform, reported that 60% of its sales came from tier 4 towns, significantly surpassing the contributions from tier 2 and 3 cities and metros (source: Meesho). The surge in online sales from smaller towns highlights the growing influence of non-metro cities in India's e-commerce ecosystem.
Fuelling Cashflows with Efficient Logistics
Efficient logistics form the foundation of the e-commerce revolution, ensuring that products reach customers promptly, a crucial factor during the festive season. A significant element of this journey involves reducing cart abandonment rates, as customers increasingly expect same-day, next-day, and express deliveries. To meet these expectations and keep cashflows steady, e commerce companies are investing in logistics and supply chain enhancements. They are hiring additional manpower, especially in smaller towns, to manage the surge in demand, thereby increasing the velocity of cash inflows. Companies like Flipkart and Mahindra Logistics have undertaken significant expansions in their supply chain infrastructure, investing in last-mile distribution hubs, fulfilment centres, and more, to improve delivery efficiency and offer seamless experiences to customers. This ensures a smooth cashflow process, as a growing number of transactions pass through the digital channels, further emphasizing the financial significance of a successful festive season in the e-commerce world.
The surge in online shopping activities brings with it a significant impact on cashflows. As the volume of transactions escalates, there's an associated increase in the flow of funds through digital channels. With cash-on-delivery (COD) making a comeback as the preferred payment method for online shoppers, it becomes imperative for e-commerce businesses to manage and streamline their cashflows effectively. As the Unified Payments Interface (UPI) gains widespread adoption, COD transactions have made a resurgence, now constituting around 70 to 75% of e-commerce sales. Buyers exhibit a preference for COD four times more than pre-paid delivery (PPD). In certain categories, such as fitness products, buyers are 1.4 times more likely to pay through cash, while for electronic goods, consumers are 5.5 times more inclined to opt for COD
The chaos of Diwali will not go unnoticed, especially by the balance sheet. Hence, a precarious watch on the mechanics of outflows and inflows serves to keep the business operating at a sustainable pace. Vayana offers two solutions that can guide during these challenging times. Vayana's Supply Chain Finance ensures timely and affordable financing at all levels of the supply chain, from suppliers to buyers. This means you can keep your operations running smoothly, even during the festive hustle and bustle. Additionally, Vayana's Integrated Cash Flow, Credit, and Analytical Solutions provide comprehensive support for managing cash flow, securing credit, and ensuring compliance. If you're eager to explore how these solutions have delivered real-world results, we invite you to delve into our collection of insightful case studies here.