Everything you need to know about receivable financing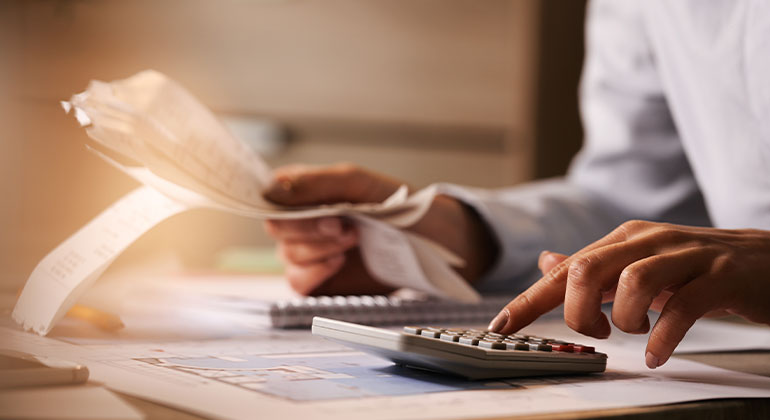 Our Receivable Financing Solution
Ample cash flow is a necessity for most businesses. It allows you to pay your expenses regularly and on a timely basis. Whereas if a cash crunch hits you, it can not only dwindle the trust of the stakeholders, it will also make procuring necessities for your business difficult.
If a cash shortage hits you due to your accounts receivable, you can consider hiring a partner to collect invoices on your behalf. With Vayana Account Receivable Finance Solution, corporates are leveraging their receivables by submitting the invoices to us and getting payments at the right time.
If you are looking for accounts receivable financing or custom solutions for your corporation, you can contact our team of experts now to find an answer as soon as possible.
Overview of Accounts Receivable (AR) Financing
Most of the buyers demand a credit period which allows them to pay after a specific period. It means that the seller will not get the payment even though the purchase is complete. Accounts receivable are a current asset for the organization and considered as "liquid" while calculating the Quick Ratio.
But invoices with long credit periods can be a burden for most organizations. With accounts receivable financing (factoring), they can now encash credit sale invoices from a third-party in return for a commission at the earliest.
It is a great way to ensure liquidity and to avoid any working capital issues that may plague the growth of their business. There are several ways of attaining AR financing, but generally, you get the option of a 100 percent invoice amount or a discounted amount of 80 to 90 per cent.
At Vayana we manage an end-to-end Account Receivable Financing program for all your customers or buyers. Our tailor-made & efficient solutions make receivable financing programs completely digital & hassle-free for corporates. Invoices are raised by corporates on the buyers and get funded post-acceptance by the respective buyer with funds credited to your corporate account.
Our receivable financing solutions are off-balance-sheet programs for corporates. They eventually provide liquidity at a reasonable cost along with improved balance sheet metrics.
Vayana's Account Receivable Financing Solutions

How Does It Work?
Factoring or accounts receivable financing is a process where the business will submit their unpaid invoices to a factor. It will then provide them with the cash within the next few days (in most cases, the same day). The payment will be after proper verification from the factor's end. In return, the organization will pay some commission for its services.
Here is how accounts receivable financing works for corporate at Vayana Account Receivable Finance Solution:

Benefits of Accounts Receivable Financing
Account receivable financing beneficial for the corporates in the following ways:
Early Payment on Unpaid Invoices
Even if you have to allow an extended credit period to a customer for any reason whatsoever, you can always avail AR financing for your business. It ensures that your business runs without any constraints, and you can pay your supplier, workers, and others within the due date or invest when the time is right.
No Interest Cost
We follow an off-balance sheet program. It means that your dealer or buyer will bear the cost of financing.
Business Growth
We provide a line of credit to our customers. This allows them to purchase ample machinery and expand their inventory, thereby helping in their business growth.
Better Dealer & Supplier Relation
Timely payment creates trust between the parties involved. We understand that an extended credit period can hamper your ability to pay your suppliers. To ensure that amount is no longer a hindrance, we offer credit to the business so that you can clear your dues timely and provide better payment options for your dealers.
Contact Vayana to Strengthen Your Cash Flow
Accounts receivable financing is a critical job and demands a lot of experience and maturity. With Network, you get an organization which has impacted more than 5000 MSMEs. We conduct a transaction every 20 seconds and have served 15 lakh plus transactions till date amounting to over 21000Cr in receivable financing. We have collaborated with over 25 industries spanning over 20 countries and are looking to expand further.
Here is what you will get when you partner with us:
Complete Digital Process: The world is going digital, and it is time that you do so too. At Vayana, we follow a 100 percent online process. From onboarding till financing, paperless is the theme that we wear by and follow.
End-to-end Management: A businessman has a lot to ponder on, and we make sure that receivable collection is not one of them. We set up the entire process and onboard all the parties involved digitally to manage it on your behalf.
Comprehensive Coverage: At times, you may require an expert to reach deep in the supply chains. Our team of experts can go down the trail as far as needed.
Hassle-free Financing: You do not need to spend on hiring people, or acquire machines worth crores. All you need is to hire us, and we will manage the rest.
So what are you waiting for and why? Contact Vayana today to handle your accounts receivables efficiently and effectively.
Email: enquiry@vayana.com