Vayana and Federal Bank bag the 'Most Effective Bank-Fintech Partnership'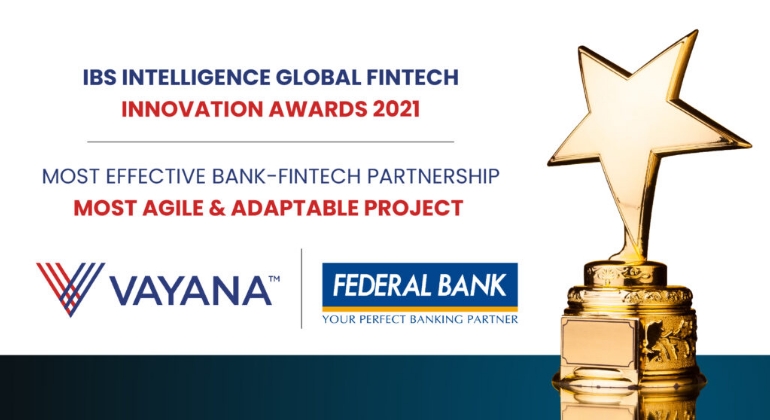 Vayana one of India's largest trade finance platforms, and Federal Bank, a leading Private Sector Bank, have been awarded the 'Most Effective Bank-Fintech Partnership: Agile and Adaptable' at the IBSi-Global Fintech Innovation Awards 2021. The award, attracting global attention with over 190 participants from 48 countries, was conferred in recognition of Vayana partnership with Federal Bank, for automating and simplifying Supply Chain Finance, by providing seamless on-boarding experience to dealers through their unique 'Full Stack' tech infrastructure – that facilitates end to end digital solution.
The Problem
Federal Bank was looking to rapidly scale up its Supply Chain Finance portfolio. While this is a big opportunity, there are huge challenges that traditional banks face in scaling up their supply-chain finance book: –
Supply Chain Finance (SCF) is complex – since it involves integrating multiple types of parties and multiple company systems. It also involves onboarding and servicing large numbers of SMEs spread across geographies.
Supply chain finance involves multiple, short-term disbursements to borrowers since it is invoice-based. This is quite different from the usual bank lending pattern of one-shot disbursements with uniform payback over longer periods
SMEs need to find disbursement processes simple and intuitive to use, with minimal paperwork.
The big challenge in scaling up SCF portfolio is to create specific infrastructure that ensures service, speed, and adaptability to the needs of disparate customer groups.
The Solution
Vayana's Supply Chain Financing Solutions have solved every problem listed above making the whole process automated, auto-scalable and reliable. The uniqueness of the solution is in that it addresses not just the technical aspects but solves for every piece of the puzzle – i.e., every process constraint and every customer type, while also addressing security and cost structures. The highlights of the solution are as follows: –
The solution has allowed Federal Bank to focus on expanding SCF business opportunities, and on its core-banking systems, while Vayana takes care of everything in between leveraging its expertise in technology, banking domain knowledge, and insights on the SME business and mindsets
Our solution allows Federal Bank to add new clients and cater to their unique client requirements through a flexible system. Additionally, Vayana's banking domain expertise ensures that most exceptions are predicted and built into the system.
Through Vayana's swift, simple and effortless approach, integration with Federal Bank's core system was achieved in weeks, allowing the bank to focus on SCF expansion much earlier, along with the digital process entailing swift onboarding of SMEs through 'single-click' and real-time infrastructure.
The Impact
Federal Bank has been able to look at the SCF opportunity greater confidence, and the partnership with Vayana gives them a clear competitive advantage to offer affordable and conveniently accessible finance to every business on a supply chain. The solution is customer-friendly and customers (including SMEs) find it extremely easy to use.
To know more, read about our Client Success Stories.
For any queries, leave your contact details below or mail us at scf@vayana.com.