Vayana and South Indian Bank win 'Best Project Implementation' from IBS intelligence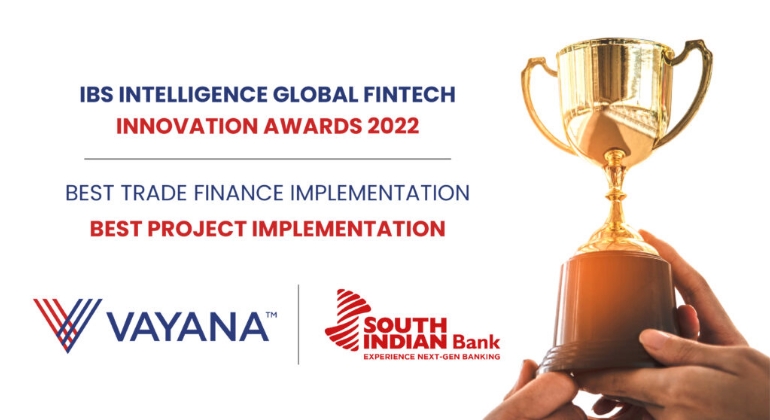 Talking about MSME credit, the story often covers MSMEs finding it hard to access banks. Here is where the joint effort of South Indian Bank and Vayana in using innovative financing models and digital solutions helped bridge the gap.
A top-down approach makes all the difference
To get one step closer to MSMEs, the bank uses larger organizations as their point of entry. As when a bank finances the trade of a big corporate, they also get to interact with the smaller vendors and dealers on the supply chain.
Elegant technology for efficient integration
For South Indian Bank to build and scale its Supply Chain Finance (SCF) books, Vayana's full-stack platform works as a bridge, connecting with the bank's back end while communicating with the ERP of each individual corporate and MSME.
Of course, one of the most cumbersome tasks is merging with the bank's existing structure without affecting business continuity. To this effect both teams, South Indian Bank and Vayana's, worked closely to have the program integrated in a matter of a speedy three months' time.
Creating the momentum to reach MSMEs
With the system now set-up, South Indian Bank holds SCF key to its growing portfolio and future aspirations. However, to be able to knock on MSME's doors Vayana again stepped in. Since small businesses have lesser time and resources, it was important to make the program as effortless as possible. For this, Vayana built a user-friendly interface, working as the bank's touchpoint to the MSME, reducing the need for manual intervention, offering tighter data integrity, and overall, a smoother customer journey.
In such ways, a multi-pronged solution that addresses the hard-to-reach market and the MSMEs' operational capacity is what created success. This helped South Indian Bank expand its portfolio, and ultimately get more small businesses the funds they need.
To know more, read about our Client Success Stories.
For any queries, leave your contact details below or mail us at scf@vayana.com.