Source: The Week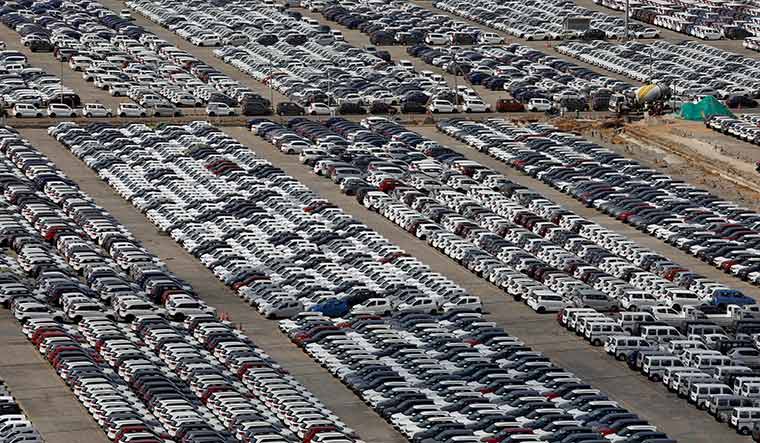 Fear is the key. It is the fear of an invisible microorganism that has seen the world shut itself down. It has us cowering in our homes waiting for a redemption that still seems far away. This fear of the coronavirus is so pervasive that it has little Kittu, in her small town of Hardoi in Uttar Pradesh, having to go without ice cream cones, her summer indulgence. The reason? Her father got a WhatsApp forward that claimed that the virus can spread through ice cream.
"Papa has placed a strict ban on any ice cream treat this summer," Kittu said forlornly.
It is no child's play. For the 010,000 crore ice cream industry in India, which is already facing a peak season meltdown because of the restrictions, this means the possibility of a bigger drop in sales. It even prompted a government clarification, quoting the World Health Organization, pointing out that there was no scientific evidence that the virus can spread through ice cream.
Or air conditioning, either, argues Vir Advani, vice-chairman and managing director of the leading AC maker Bluestar. "There are technical papers in the US and Japan that show how air conditioners, by controlling temperature and humidity, actually limit the virus from existing in the air and on surfaces," he said on the phone from his home in Mumbai.
Fear can be debilitating. Even more so when it is the fear of the unknown and when uncertainties abound. That more or less summarises India's tryst with the lockdown, which has been plagued by fear, loathing and a whole lot of doubts. By shutting down the country, have we saved many lives? Possibly. Could we have done this in a better manner? Yes. Is the lockdown going to lead to future pains? Certainly.
While most business honchos stuck to politically correct lines, Infosys cofounder N.R. Narayana Murthy took the bull by the horns. "A lengthy lockdown will kill more people than Covid will," he said in a webinar.
On paper, the country is locked down till May 17, with districts divided into zones based on reported infections, with a typically convoluted bunch of bureaucratic diktats on what is permitted and what is not. Once you go over the fine print, this much is clear—the government is now on survival mode and lockdown 3.0 is nothing but an ultra-cautious attempt to ease into normalcy.
It is not a pretty picture. Corporates have been going slow in restarting production. The complex zonal regulations limit movement of labour and raw materials. Migrant workers leaving cities could cause acute distress to business reopening. "Authorities must empower industries by extending permissions for operations, logistics movement, and ease inter- and intra-state labour movement," said Saurabh Goel, president, Havells India.
According to George Paul, CEO of the Manufacturers Association of Information Technology (MAIT), the umbrella body of electronics manufacturers in the country, "industry is reopening with a number of uncertainties, be it on the labour front, the cost front, the threat of Covid breakout in a plant, timely receipt of raw materials and whether existing suppliers will make timely supply at the same costs".
Then there is the question of demand. Businesses all over are bracing for a slump. Market research firm Nielsen slashed the outlook for the fast moving consumer goods segment from 8-9 per cent to just 5-6 per cent. "We are in uncharted waters, and the Indian economy has rarely witnessed a double whammy of this nature before, a twinned demand and supply shock," said Elias George, partner and national head (infrastructure, government, and health care), KPMG India.
India will be lucky if its GDP grows at all this year. Barclay's, which cut India's growth projection to zero, says the economy will lose Rs17.78 lakh crore. The country was in an economic slump even before the pandemic hit—last year's GST collection was Rs41,000 crore short of target, while the shortfall in direct taxes was Rs1.43 lakh crore.
That means the government has little leeway to cater to the growing clamour for stimulus packages. The initial two rounds (the first tranche involved a total of Rs1.7 lakh crore and the second had repo rate cuts to push banks to lend more and a moratorium on loans) offered more optics than options. "These measures have perceivably been inadequate and the wheels of the economy would need a big push even to kickstart," said Sanjeeva Shivesh, economic advisory head at Sapio Umbrella, a think-tank of current and former civil servants, business leaders and sectoral experts.
"It is important to revive demand, nothing bad will happen if we give bottom 60 per cent more money," economist Abhijit Banerjee said in an interaction with Congress leader Rahul Gandhi on May 5. But, how do you lift consumption when there is fear and floundering all around?
Core sectors like auto, real estate, construction, travel and hospitality may be affected in the long run, while some manufacturers may face a time lag before reaching a demand-supply equilibrium. But there are also opportunities galore. "Hope lies in the innate resilience and innovativeness of the people, as well as the prospect of the agriculture sector," said George of KPMG. With the satisfactory rabi harvest, a good start to the monsoon next month would mean the rural economy could still carry the day.
Secondly, not all sectors are floundering. "Sectors like pharma, health care, essential FMCG, agriculture, packaging, telecom, OTT, gaming and insurance will continue to surge and see growth," said R.N. Iyer, CEO and founder of Vayana Network, a supply chain finance consultancy.
According to C.P. Gurnani, managing director and CEO of Tech Mahindra, technology will play the biggest enabler. "This means more businesses turning towards digital practices in their mode of operations," he said. The quarantine period has already seen a surge in online learning, with edtech companies reporting a healthy growth. "A significant part of learning will move online," said Raghav Gupta, managing director (India & Asia Pacific) of Coursera, the global edtech firm. "What started as a short-term response to a crisis will likely transform the education system and change people's learning behaviour forever."
E-commerce could be a big gainer. Restricted to selling only essential items and hampered by lack of delivery and warehouse staff during the lockdown, the companies are bracing for a surge. "We are working with lakhs of sellers to prepare and make products available for consumers in this time of need," said Anil Goteti, senior vice president of Flipkart. It is no coincidence that the mega deal between Reliance Jio and Facebook for a hyper-local e-commerce network happened during the lockdown.
Prime Minister Narendra Modi has also been talking about a two-pronged approach to lessen the post-Covid worries—one, focus on local resources, and two, position India as an attractive investment destination for companies leaving China. "Indian manufacturing should bounce back quickly and assure the world that it is a dependable destination to shift manufacturing," said Paul of MAIT. "We have the opportunity to attract export-led electronic manufacturing to India."
The government is set to clear a strategy paper on the topic. Speciality chemicals, fertilisers, pesticides, minerals and metals to even fashion and lifestyle products could benefit.
Despite India's strength in research, drug makers were resorting to manufacture in China as it was cheaper. The pandemic may have changed that. "The current crisis is a blessing in disguise and a valuable opportunity to again become a preferred supplier of pharma products for the world," said Kushal Suri, head of international business at Morepen. Last month, the government sanctioned Rs10,000 crore to set up bulk drug parks across India.
Of course, nobody expects the going to be smooth. Apart from the big worry of a spike in infections or even a second outbreak, how India deals with the human problem will be crucial. Allowing migrant workers to go home just when factories were creaking to start is the latest in a series of disastrous policy planning. How can it be salvaged? "The manner in which migrant labourers have been treated, it is going to take many months to get them back," said Advani of Bluestar.
The salaried middle class and the small-scale businessman will play pivot for revival of consumption, and they are neck-deep in fear of job cuts and bleak business prospects. "There could be staff cuts in the blue-collar and grey-collar segments, and reduced demand in the entry-level segment, as discretionary spending gets muted," said Nilabh Kapoor of OLX People. "On the other hand, once businesses resume functions gradually and the government unveils a stimulus package for MSMEs, it could be a shot in the arm for industries to ramp up hiring."
And the recovery? "There is always hope," said Ajay Bakaya, managing director of Sarovar Hotels and Resorts. Just as well, because one theory, propounded by Moody's Analytics in March and increasingly being talked about, is that of a quick recovery—it will not be V- or U- shaped, but rather like the Nike 'swoosh'. A faster-than-expected uptick, though followed by a slow-paced recovery. Perhaps, even in this most worrisome of times, it is not fear, but hope that will still save the day.